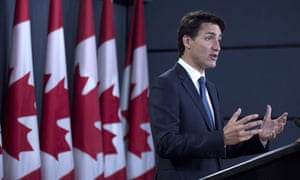 PM says lethal shot from 3,540m within Canada's advise-and-assist mission
Opponents say Canadians deserve truth about Canada's true role in Iraq
A record-shattering lethal shot fired by a Canadian sniper in Iraq has reignited a longstanding debate over Canada's role in the region, with Prime Minister Justin Trudeau telling reporters it was "entirely consistent" with the country's non-combat mission and should be celebrated.
Last week, the defence department confirmed reports that a Canadian sniper had shot an Isis militant from 3,540 metres (2 miles) away. The shot surpassed the previous world military record for the longest confirmed kill – held by a British sniper who took aim at a Taliban fighter in 2009 – by more than a kilometre.
Officials said the sniper was a member of the Canadian military's elite counter-terrorism unit. The shot was fired last month after Canadian snipers noticed that Isis fighters were poised to ambush Iraqi security forces, according to the Globe and Mail.
The news rekindled a long running debate based on a 2015 campaign promise by the Liberals, led by Trudeau, to end "Canada's combat mission in Iraq".
Months after sweeping into power, they said they were doing just that; pulling Canada's six fighter jets out of the US-led coalition against Islamic State and instead putting roughly 200 special forces troops on the ground to support Kurdish forces in Iraq.
But questions as to what exactly this support entails have continued to plague the Liberals, particularly after Gen Jonathan Vance, Canada's chief of defence staff, told a parliamentary committee in November that Canadian troops have been allowed to fire first against Isis militants. "We don't have to be shot at first," he said. "We can take the first shot if it is to save lives."
The recent news of the sniper casts further doubt on the government's assertion, said Tom Mulcair, leader of the New Democratic party, last week. "Has your definition of combat changed since forming government?" Mulcair asked in a letter to Trudeau, adding: "Canadians deserve no less than to know the true extent of our involvement in Iraq."
Reporters put those concerns to Trudeau on Tuesday. The prime minister began by addressing the kill shot. "What happened there is, first of all, something to be celebrated for the excellence of the Canadian forces in their training, in the performance of their duties," he said. "But it's also something to be understood as being entirely consistent with what Canada is expected – and Canadians expect our forces – to be doing as part of the coalition against Daesh."
The sniper had been defending Iraqi and Kurdish forces when he took the shot, said Trudeau. "The advise-and-assist mission that our forces are engaged in in northern Iraq has always had an element of defence of, obviously, Canadian troops and of our coalition partners."
Mulcair said he remained unconvinced. "You can't have people shooting people to death on the frontlines and still claim this is not a combat mission," he told the Globe and Mail.
He said he was surprised to hear the prime minister's view on the sniper. "It is certainly not part of my values to say that we should be celebrating the death of a human being, no matter what the circumstances."
The renewed debate comes just days before the mandate guiding Canada's mission to Iraq is set to expire. The Liberal government is expected to announce either an extension or changes to the mission shortly.