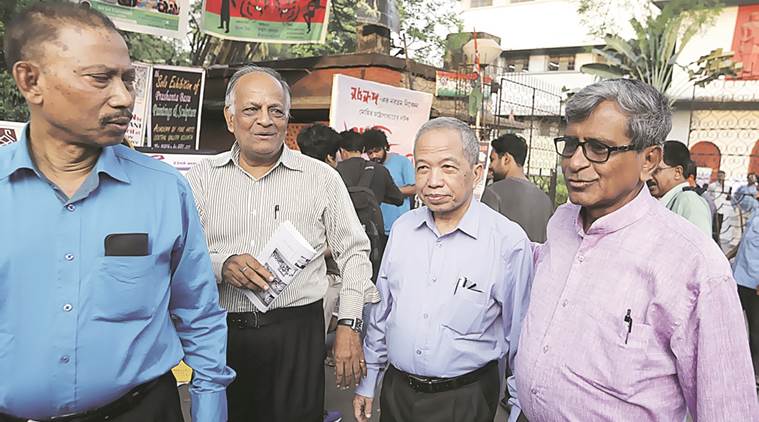 Bangladeshi MP Ushatan Talukdar (second from right) at the event. (Partha Paul)
Days ahead of Bangladesh Prime Minister Sheikh Hasina's visit to India, a resolution, demanding an end to "atrocities" against Bangladeshi minorities, was adopted at an international conference in Kolkata on Sunday. The resolution will be forwarded to the governments of India an Bangladesh.
The two-day event that ended on Sunday, organised by Campaign Against Atrocities on Minorities in Bangladesh (CAAMB) in association with Centre for Research in Indo-Bangla Relation, Kolkata, saw protests by students from Jadavpur University on both days. They claimed that the event was held under the sponsorship of the BJP and RSS, which were involved in "attacks against minorities" in India.
"The minorities in Bangladesh are suffering atrocities and we are seeking help from governments of India and Bangladesh and other organisations which work to protect the rights of people," Arun K Dutta, president of Bangladesh Minority Rights Alliance (Canada), who participated in the conference.
The declaration reads, "We propose that the Bangladesh government ensure the prevention of all violence against Hindus, Buddhists, Christians, Ahmedias, Atheists, progressive Muslims and all other ethnic minorities in Bangladesh … bring perpetrators of past communal violence to justice and provide compensation to the victims… create a similar ministry or a commission (for minorities)… We propose that the Indian government put pressure to bar upon the Bangladesh government so that it stops its appeasement of the Islamic section of the society and stop the ethnic cleansing of the minority communities."
It adds: "West Bengal should not be a safe sanctuary for Islamic fundamentalists from Bangladesh. We demand that West Bengal government must take action against the elements in the state openly supporting the Razakars and mass murders of the Bangladesh liberation struggle".
President of Bangladesh Minority Watch Rabindra Ghosh expressed shock at the JU students protests. "I am very shocked at the way they tried to disrupt the conference. Such behaviour was unwarranted," Ghosh said.
On Saturday, a clash between some JU students and RSS members broke out on the varsity campus, the venue of day one of the conference. On Sunday, the students protested outside Academy of Fine Arts, the second day venue.
"We are surprised to see BJP and RSS organising seminars on atrocities of minorities in Bangladesh. In our country, minorities are targeted every day and yet the ruling party or the government is doing nothing to stop it," said Soumya Mondal, general secretary of USDF.
Convener of CAAMB and convenor of BJP's refugee cell, Mohit Ray said that RSS was not involved in organising the seminar. "I have been associated with CAAMB for last 15 years. I joined BJP later. But that should not become the topic of discussion. We had earlier organised similar seminars. The event was aimed at raising awareness on the atrocities of minorities in Bangladesh and how to put an end to it. This has nothing to do with RSS," Ray said.
Various organisations such as- Bangladesh Hindu Buddhist Christian Unity Council (Dhaka and Chittagong), Bangladesh Hindu Buddhist Christian Unity Council (USA, UK and France), Bangladesh Minority Forum, Bangladesh Minority Rights Alliance (Canada) and others participated in the conference.
For all the latest India News, download Indian Express App now