MTY Food Group (OTC:MTYFF) is one of Canada's fast food restaurant giants, led by CEO Stanley Ma, known as Canada's "Food Court King". MTY has slowly and steadily consolidated Canada's fragmented quick-service restaurant industry and now boasts over 5,500 locations and a market cap just north of C$1 billion.
Although the shares have come off their all-time highs due to weaker-than-expected first quarter results, based on growth potential alone, I argue the shares have the ability to produce long-term capital gains.
A brief introduction
At the end of 2016, MTY operated 60 brands located across the U.S. and Canada. In May of last year, the company made its first big foray into the U.S. market with the acquisition of Kahala Brands for approximately US$300 million in cash and shares. Kahala brought with it banners such as Cold Stone Creamery, Blimpie, Pinkberry, and others. It also brought on board the Serruya brothers, the team behind Yogen Fruz and CoolBrands International, which had purchased Kahala as a turnaround play prior to selling it to Stanley Ma.
This was a significant transaction and immediately added 2,800 U.S. based restaurants to the company's existing Canadian base of roughly 2,700 restaurants, essentially doubling the size of MTY overnight to almost 5,500 units. The transaction officially closed in July, setting the stage for us to evaluate how the transaction is progressing.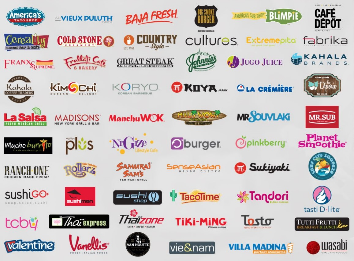 By the end of 2016, MTY had 60 brands across Canada and the U.S. Source: 2016 Annual Report
A well-known consolidator
MTY is not new to making acquisitions. It is a well-known consolidator within the Canadian fast food segment, currently owning and operating 40 brands that were bought and integrated into the larger group. These brands include some well-known food court staples like Thai Express, Manchu Wok, Mucho Burrito, Villa Medina, and others.
None of these brands, in my opinion, can be considered top tier in terms of being the number one brand in their category. The brands are mostly second tier (or were once more popular but have slowly faded), well-known, and are comparatively easier for a franchisee to purchase and operate than a large brand such as McDonald's (NYSE:MCD) which has more strenuous vetting of franchisees and is more difficult to get.
Generally, MTY franchises out its brands while operating a small number of its own stores – 76 as of the end of February 2017. A dollar earned through franchise royalties will have a larger impact to the bottom line than a dollar flowing through an operated restaurant. This is due to the costs associated in operating your own store; margins are much tighter serving food than in receiving royalties. MTY typically received royalties in range of 6-9% of sales depending on the banner.
I expect MTY to sell some of its corporately owned stores as it has typically operated 1-2% of its total store count as corporate stores. Fewer corporate stores will lower revenue but should theoretically increase net income as the costs of running the restaurant are removed from the business. Royalty revenues are very high margin.
A Look at The Numbers
Owning second tier, less-popular brands does not mean that MTY's profitability is second tier.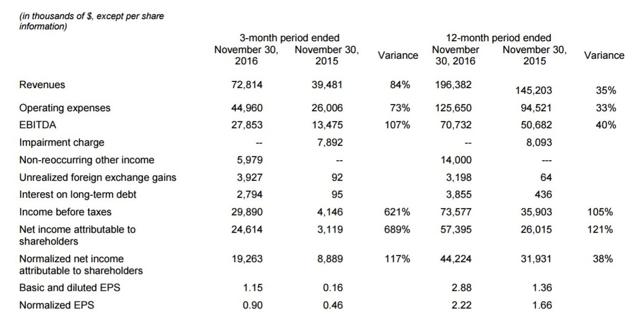 Figure 1: All figures in $CAD. Source: Company Press Release
Revenues are earned on sales from company restaurants, franchise operations, and food processing.
In Figure 1, we can see that the merger immediately impacted fourth quarter 2016 revenues, which jumped 84% over the fourth quarter of 2015 and 35% for the full year. EBITDA spiked 107% for the quarter and 40% for the year. We can clearly see that the merger has improved sales and EBITDA.
Reported net income was C$24.614 million compared to C$3.119 million, surging 689% on a quarterly comparison, and a more "modest" 129% for the full year. However, there were some one-time gains that, when removed, bring the quarterly and yearly profit growth to 117% and 38%, respectively. Earnings per share were C$2.22 for 2016 compared to C$1.66 in 2015 for annual growth of almost 34%. This is respectable growth, in my opinion, and shows that the increased system sales from the newly added restaurants are flowing to revenues, pre-tax earnings, and net income.
It is clear that Kahala's impact is significant at both the revenue and profitability level. At the overall system sales level, which represents the total sales of every store in the system, Kahala added C$395 million for the year bringing MTY's total annual sales to C$1.48 billion. Kahala was owned for less than four months in fiscal 2016. Another positive outcome of the merger, in my opinion.
The first quarter did not impress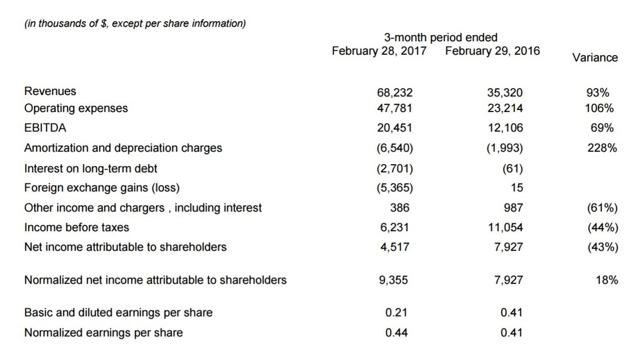 Figure 2: All figures in $CAD. Source: Company Press Release
The first quarter ended on February 28, 2017, and results were released on April 10, 2017. System sales were C$519.2 million, 98% higher than the prior year's quarter. Referring to Figure 2, the company's revenue growth continued at 93% over the prior year period, while EBITDA grew 69%. This did not translate, however, to the bottom line as net income actually declined 43% before removing one-time items.
The company attributes the decline to a foreign exchange loss of C$5.365 million that highlights a new variable to MTY's profitability, as the company reports in CAD yet generates a significant portion of its revenues in USD. Since the end of the quarter, the Canadian dollar has weakened relative to the USD, which will help MTY's revenues in the near term. I would like to see the company hedge its currency risk in order to provide better earnings visibility.
Another new recurring cost is the C$2.7 million interest payment on the debt it took out to finance the Kahala purchase. Historically, MTY has stayed away from borrowing and not had to pay much interest. I look to see regular debt repayments over the coming quarters, reducing the overall amount paid in interest.
Normalized net income, having removed non-recurring items, rose 18% while normalized earnings per share were 7.3% higher due to the new shares issued in conjunction with the debt to finance the acquisition.
This is what caused, in my opinion, the shares to plunge from north of C$53 to C$46. As we saw in the revenue and EBITDA figures, strong double-digit growth only translated to single-digit net income growth. The market expected more, but to the company's credit, SSS data from across the industry shows a challenging environment in the first quarter of 2017 for many players. With Cold Stone Creamery representing more than 10% of MTY's sales, it is expected that the colder months will be softer for MTY going forward. I am willing to accept this as a one-off quarter. Even in what was a very weak quarter, the company reported high single-digit net income growth.
The metrics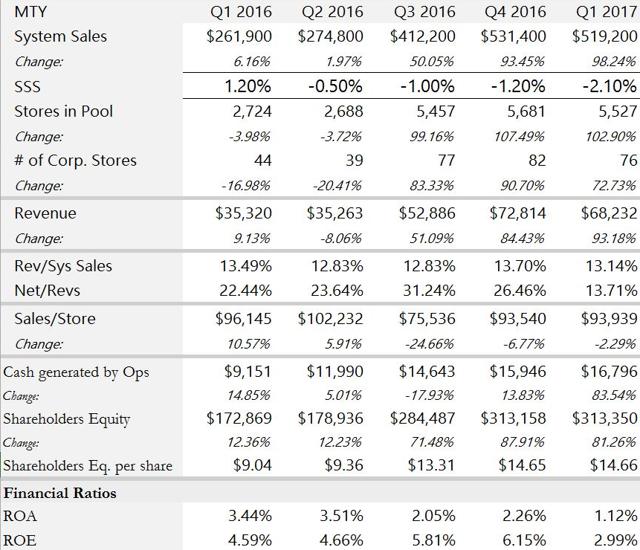 Figure 3: All figures in thousands of C$ unless per share figures. Source: company financials.
Over the years, MTY has successfully integrated many acquisitions and has generated long-term value for shareholders. With an integration on the scale of Kahala's, there were bound to be some hiccups as evidenced by the most recent quarter's weaker profit. Figure 3 shows certain metrics that I follow closely. I have pared back the data to the last five quarters. All numbers referenced in the section below refer to Figure 3.
There has been a steady increase in system-wide sales, the number of stores in the system, and MTY's revenue. Focusing on the Q4 to Q1 period, the number of stores in the network declined from 5,681 to 5,527 during the first quarter. Closing more stores than you open is not a good thing, but MTY has many brands, and there are a few that are nearing the end of their lives and will eventually disappear altogether.
MTY's vast base of banners gives it leverage with landlords as it is able to replace closed stores with another banner and franchisee. I have personally seen this in Toronto where MTY will replace a closing Country Style with a Big Smoke Burger, or a Country Style with a Pinkberry in relatively short order. Country Style is one of those brands considered to be on its last legs – it just cannot compete with Tim Horton's, McDonalds, and Starbucks.
Also, as an industry consolidator, similar to Alimentation Couche-Tard (OTCPK:ANCUF) in the gas station/convenience store industry, new acquisitions will typically make up for weaker organic growth. With limited room to raise prices in a competitive food environment, buying your competitors is a good way to increase sales and push the growth dial. Eventually this strategy reaches a peak, but there is plenty of room for consolidation left – many years to go, especially in the U.S.
Quoting from the company's Q1 MD&A (see this PDF):
"The Company's network opened 48 locations (22 in Canada, 26 in the United States and International) and closed 108 (40 in Canada, 68 in the United States and International) during the first quarter of 2017. The net reduction of 60 locations results from a multitude of factors, which includes competitive pressures, leases expiring and closure of underperforming stores.

The number of stores opened during the quarter was also below management's expectations, with many locations taking slightly longer to build and open. The average monthly sales for the stores closed during the first three months of 2017 was approximately $21,150, while the average monthly sales of stores opened during the same period was approximately $27,700."
The new stores opened generated more sales than the those that were closed, partially making up for any overall loss to system sales. Although organic growth is generally weak, new stores are showing better performance than the stores that were closed.
Looking at Same Store Sales (SSS) growth, it has declined for four straight quarters and will need to be watched. SSS declined 2.1% in Q1 but if the impact of the leap year is stripped out, the decline was actually 1.0%, with the Kahala stores down only 0.6%.
Cold Stone Creamery currently represents more than 10% of system sales, accounting for 25% of the total sales of MTY's network. During Q1, there were not many people in the northern states or Canada going for an ice cream. This reduced sales. I expect ongoing weak winter sales for MTY going forward. I do not believe this will improve next winter, but I expect the strong summer months to more than compensate.
Looking at revenues as a percentage of system sales, we get an idea of the how much of every C$1 of system sales MTY can capture and bring in as revenue. This metric is crude since the company's corporate stores will increase the ratio when more corporate stores are owned as they capture 100% of their respective system sales. We can see that it declined in the last two quarters, which I expected based on sales weakening during the winter months.
Sales per store is derived by dividing total system sales by the total number of stores to get an average of the sales of each individual restaurant. It is not perfect as some units generate more than others, but it gives an idea of how the network is performing. In the last three quarters it has declined but at a slower rate. I am looking to see how the higher traffic summer months will affect this value.
The more important metric for me is net income as a percentage of revenues. This shows just how much of the revenue is converted to profit. This figure declined last quarter as net income did not rise as fast as revenues did, yet it is still too early in the acquisition to know what a normal range is. I would expect it to increase as efficiencies are worked out. I would like to see it in the 18%+ range. It currently sits near 14%. For every $1 of revenue MTY makes, $0.14 is kept as income.
Cash flow has steadily grown and continues to do so, giving the company the flexibility to pay down debt and take advantage of acquisition opportunities. This is an important metric as it gives a very good picture of how much cash can be generated by the revenues earned. Last quarter generated almost C$17 million in cash.
Shareholder equity has steadily increased growing 62% since the first quarter of 2016 and stands at C$14.65 at the end of the most recent quarter. I consider that substantial.
Return on assets declined as expected since assets grew significantly with the acquisition. Again, this bears watching over the next 3-4 quarters to get a better idea of what the new normal for return on assets should be.
The 'softer' factor: Management
Investing in MTY is investing in Stanley Ma, and, to a lesser degree, the Serruya brothers, although I do not know their level of involvement other than their share holdings.
As of March 27, 2017, and based on 21,374,497 shares outstanding, Stanley Ma owned 22.86% of the company (Management Information Circular, April 5, 2017). As Nassim Taleb would say, he has skin in the game. What is interesting about his ownership is that unlike other founder-owned Canadian public companies like Bombardier (OTCQX:BDRBF) and Couche-Tard, MTY does not have dual shares. This makes Mr. Ma's priorities aligned with the shareholders. Not that dual share structures are necessarily bad, but they can be bad as in the case of Bombardier where you cannot vote out management. They can also create tremendous value as in Couche-Tard's case. I simply prefer owners having the same voting rights as every other shareholder.
Since 2008, not a single new share was issued until the purchase of Kahala in 2016. There was absolutely zero dilution over those eight years which is something almost unheard of in a public company. MTY has also avoided debt and has run a very clean balance sheet. In the 2016 Annual Report, Mr. Ma's letter to shareholders touched on his rationale for the acquisition and raising debt to finance it. He said: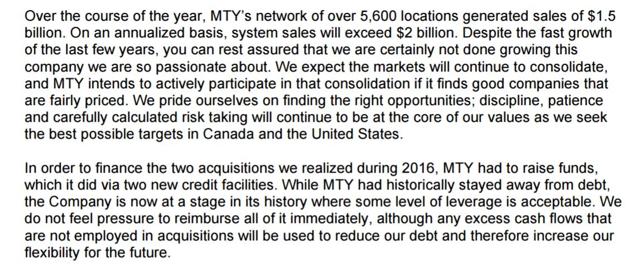 We can feel confident, or at least I do, that the debt will be reduced resulting in improved financials as interest payments come down.
Conclusion and final thoughts
I have been a shareholder since 2010 and use these dips to add to my position at what I consider attractive prices. The decline following the release of Q1 results has created an opportunity to purchase these shares at a P/E of less than 20!
At the current share price of C$47.54 (as of May 5, 2017) the shares are trading at a P/E of 18.5 based on a 12-month trailing normalized EPS of C$2.60. This company has usually traded at a PE over 20 and has the potential to return to a more normal PE of 23. That alone could add C$10 to the shares.
The next quarter will show another spike in system sales and revenues as the same quarter of 2016 was still pre-Kahala and presents a weak comparable. Net income should also grow, but the question on everyone's mind is by how much. This will be an important factor in which direction the share price heads. I would like to see at least C$0.50 earnings per share for Q2 2017.
I will be watching the next four quarters very closely to see how the company performs, with focus on the third quarter which should be very strong due to the large portion of sales that the company generates through ice cream and yogurt (Cold Stone Creamery, Yogen Fruz), which do the best in the summer months.
At current prices, I view this company as one that any investor interested in Canadian fast food should seriously consider. The shares are already discounting a few rough quarters, and should the company return to normal levels of profitability, the market will reward shareholders. If the fourth quarter of 2016's income results are indicative of what is to come, the upside could be substantial.
If earnings do not grow at all, and stay at C$2.60 (a scenario I consider unlikely as witnessed by the 7% net income growth in a weak Q1) the shares could rise to C$52 just on the P/E ratio returning to 20. I believe a pickup in summer sales will lift the shares as investors get a gauge of how strong the summer months really are. If you agree that the summer will show an improvement over the winter, the shares provide a good opportunity to open a position. With such low expectations, any surprise could be a catalyst.
If the thesis of a stronger summer play outs; if net income resumes a stronger growth trajectory and if the company begins to pay down debt, my C$52 target begins to look conservative. That's without making any more acquisitions.
MTY also pays an annual dividend of C$0.46 for a yield of 0.97%. The elements for continued growth are certainly there, and based on management's track record, the odds are in MTY's favor as it seeks to roll-up more struggling or out-of-favor U.S. and Canadian based franchises, and move the growth dial even further.
Share your thoughts in the comment section, and follow me if you enjoyed reading this article.
Disclosure: I am/we are long MTYFF, ANCUF.
I wrote this article myself, and it expresses my own opinions. I am not receiving compensation for it (other than from Seeking Alpha). I have no business relationship with any company whose stock is mentioned in this article.
Editor's Note: This article discusses one or more securities that do not trade on a major U.S. exchange. Please be aware of the risks associated with these stocks.