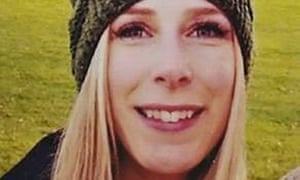 Christine Archibald's family urged people to counter her senseless death with acts of compassion and 'not let this beautiful soul die in vain'
Promises to carry out acts of kindness have come pouring in as people around the world pay tribute to the Canadian woman – described as a "bright light" and a "beautiful soul" – who was killed in the London Bridge attack.
Christine Archibald, 30, originally from Castlegar, British Columbia, was among the seven people killed in Saturday night's attack. The social worker had recently moved to the Netherlands, where her fiancée Tyler Ferguson was working, his sister Cassie Ferguson Rowe told the Canadian Broadcasting Corporation.
The couple were visiting London when Archibald was hit by a van that terrorists drove at pedestrians during the attack. "Last night in London my baby brother lost the love of his life on the London Bridge. In a split second his entire life was ripped away from him," Ferguson Rowe said. "He held her and watched her die in his arms."
Her family said that Archibald had worked at a homeless shelter in Calgary before moving to Europe. "She had room in her heart for everyone and believed strongly that every person was to be valued and respected," they said in a statement. "She would have had no understanding of the callous cruelty that caused her death. Please honour her by making your community a better place."
Hundreds embraced the family's wishes online, using the hashtag #Chrissysentme to pledge donations for shelters, soup kitchens and other community groups.
The employees at Calgary's Alpha House, which provides shelter and housing to those struggling with addictions and other health issues, said they were devastated to hear of their colleague's passing. "Chrissy was a bright light to many, and her generosity, kind spirit and huge heart for her work in responding to issues of addictions and homelessness at the centre inspired us all," they wrote in a statement.
She would be remembered, they added, as "a talented social worker, workmate and exceptional human being".
Mark Ferguson said his brother had been in London for business and that Archibald had joined him for the weekend. The two Canadians – who Ferguson said were "madly in love" and had got engaged just a few months earlier – were out sightseeing and had ended up on the London Bridge when the attack happened.
"He heard tires screeching and he looked back, and he just saw the mayhem going on and the van hitting people," Ferguson told the CBC. "He tried CPR on her…. First responders showed up right away and they tried to do everything they could for her. She passed in his arms."
His family had travelled to Europe to comfort his grieving brother, he said, and was hoping to eventually launch a charity foundation in Archibald's name.
In the meantime, he urged people to counter her senseless death with acts of compassion. "If you make a local donation in your community or help out somewhere, take a pic and add #Chrissysentme," Ferguson said on Facebook. "Let's all keep her alive and not let this beautiful soul die in vain."