Canadian Utilities (OTCPK:CDUAF) (TSX:CU) has paid and increased its dividend for 45 consecutive years. The company's current yield of 3.51% is safe and dependable as over 90% of its earnings come from regulated utilities. The company is also expanding its operations in Australia and Mexico. Investors who want a reliable dividend income with growing potential might want to add Canadian Utilities to their watch list.
Business Overview
Canadian Utilities' business segments include distribution and transmission of natural gas and electricity, as well as power generation. Although its business is largely focused in the Canadian province of Alberta, the company also has operations in Australia and is expanding its toehold in Mexico. The table below provides a quick overview of Canadian Utilities' businesses.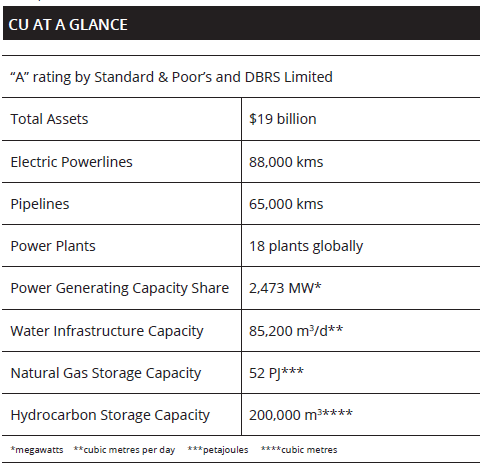 Source: Q1 2017 Investor Fact Sheet
Despite continued economic weakness in the company's base in Alberta last year, Canadian Utilities delivered a strong fiscal year in 2016. Earnings in its electricity segment increased from C$322 million in 2015 to C$402 million in 2016, or a growth of 24.8%. Its earnings in its pipelines and liquids segment also increased from C$189 million in 2015 to C$255 million in 2016, or a growth of 34.9%.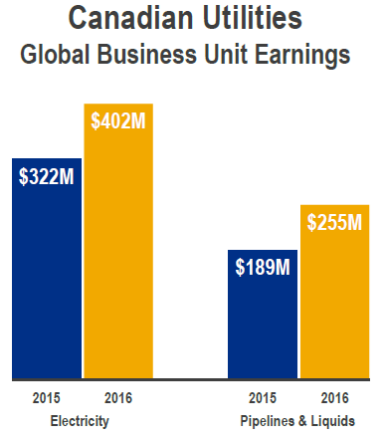 Source: July 2017 Investor Presentation
Since 2009, Canadian Utilities has increased the proportion of its regulated adjusted earnings from 46% of the company's total revenue to 93% of its revenue in 2016. With over 90% of its earnings from regulated utilities, the company's revenue is much more stable and predictable and less prone to commodity pricing. Its stock is therefore classified as a defensive stock. Stocks in this category are typically more resilient than the rest of the market in an economic downturn.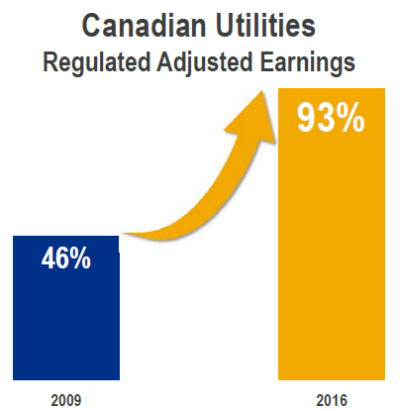 Source: July 2017 Investor Presentation
In the past three years, management has done an excellent job reducing its operating expenses while growing its revenue. As can be seen in the chart below, management has since reduced its operating cost from C$2.1 billion in 2014 to C$1.6 billion last year. This is equivalent to a savings of C$500 annually.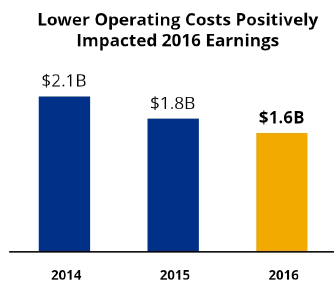 Source: 2016 Financial Report
Strong Balance Sheet
The company has assets of approximately C$19.1 billion as of March 31, 2017. Its long-term debt is approximately C$8.1 billion.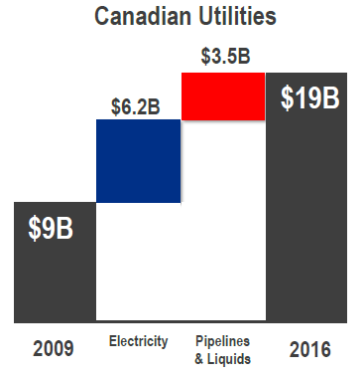 Source: July 2017 Investor Presentation
The long-term debt to capitalization ratio is 55%. This ratio is just around average. It is below Emera's 62.6%, but above AltaGas's 37.4%. Given that 93% of its earnings come from regulated utilities, which are generally stable and predictable, I am comfortable with the company's debt ratio in the mid-50% range. The company's long-term debt to FFO (funds from operation) ratio is 4.61 in 2016. This number is also acceptable, in my opinion.
| | |
| --- | --- |
| Peer Group | Long-Term Debt to Capitalization |
| Canadian Utilities | 54.8% |
| Fortis | 52.5% |
| Emera | 62.6% |
| AltaGas | 37.4% |
Q1 Financial Highlights
In Q1 2017, Canadian Utilities continued to show strong growth. Its adjusted earnings increased by C$18 million to C$215 million compared to the same period last year. The growth is mainly due to a growth in rate base and lower operating costs in both electricity and pipeline and liquids segments. The revenues in Q1 of C$997 million were C$146 million higher than the same period in 2016, with 49% of its revenue come from its electricity segment, 50% from its pipelines and liquids segment, and the rest 1% from other sources. FFO also grew by double digits. Its FFO in Q1 has increased by C$56 million to C$506 million. This is equivalent to C$1.88 per share.
Q1 2017 Financial Highlights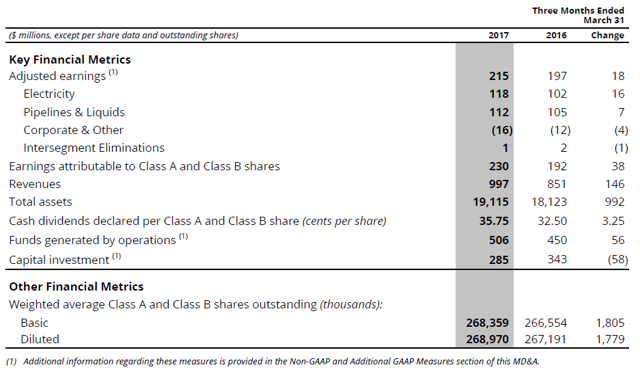 Source: Q1 2017 Financial Report
Dividend Is Sustainable
Canadian Utilities has increased its dividend consecutively in the past 45 years. Between 1972 and 2011, the company's dividend growth is 7% annually. Since 2011, the company has increased its dividend by about 10% per year. The management is committed to continue increase its dividend annually in the future. Its C$5 billion capital investment projects through 2019 will ensure its dividend growth continues. Currently, the quarterly dividend payment is C$0.3575 per share. At today's stock price, the yield is about 3.51%.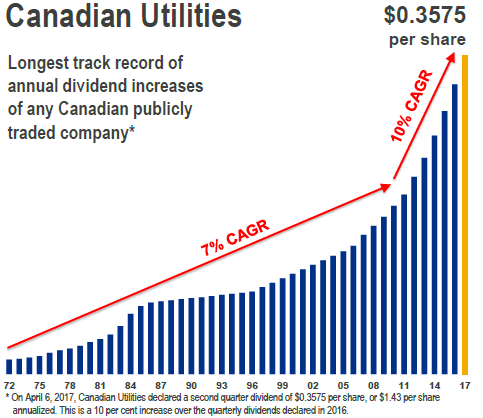 Source: July 2017 Investor Presentation
Using FFO to evaluate Canadian Utilities' dividend payout ratio, its current payout ratio is 19%. Taking into consideration capital expenditure, its adjusted FFO payout ratio was 43.5% in Q1 2017. This number was much lower than the same quarter last year. In Q1 2016, its payout ratio was a little over 80%. The reason was primarily due to lower capital investment in Q1 2017 as compared to Q1 2016. At the moment, its dividend appears to be sustainable.
Growth Outlook
With its C$5 billion capital investment plans through 2019, Canadian Utilities' revenues and earnings are expected to continue to grow. Its regulated business earning is expected to grow due to a rate-base increase. Moreover, the expansion of its operations in Australia and Mexico should bring growth to the company in the medium and long term.
Investor Takeaway
Canadian Utilities' business is mostly regulated utilities. This ensures the company will receive a stable and predictable revenue. With its growth plan and capital expenditure for the upcoming few years, the company is expected to continue to grow its dividend. Investors who want a predictable and potentially growing dividend might want to consider adding Canadian Utilities to their portfolio. However, given that there are many companies in the sector that have similar or better growth outlooks, investors are advised to research to other companies before making their decision.
Author Note: This is the fourth article I have written on companies in the utilities sector. To check out the other three, please click here, here, and here.
Disclosure: I/we have no positions in any stocks mentioned, and no plans to initiate any positions within the next 72 hours.
I wrote this article myself, and it expresses my own opinions. I am not receiving compensation for it (other than from Seeking Alpha). I have no business relationship with any company whose stock is mentioned in this article.
Editor's Note: This article discusses one or more securities that do not trade on a major U.S. exchange. Please be aware of the risks associated with these stocks.