Daniel Montsion charged in relation to incident last year in which Abdirahman Abdi died after arrest in Ottawa, where witnesses said he was beaten by officers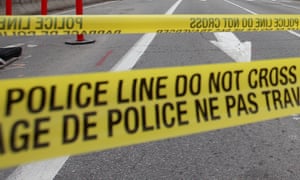 A Canadian police officer has been charged with manslaughter for the death of a mentally ill black man following an arrest last year in Ottawa, the provincial police watchdog agency said on Monday.
The Special Investigations Unit (SIU) said in a statement it has laid charges against Ottawa police service constable Daniel Montsion, 36, in relation to the death of Abdirahman Abdi, who was of Somali descent.
Abdi, 37, died in July last year after being hospitalized in critical condition following his arrest. Witnesses told local media he was beaten by Ottawa police officers who responded to calls of a disturbance.
Abdi's death echoed a string of high-profile killings of black men by police in the US, where such incidents and allegations of brutality and racial bias have sparked public outrage.
The man's brother then told the Canadian Broadcasting Corp that Abdi had been "sick" and rarely spoke to other people, while other media reports have said he may have been on the autism spectrum.
The death sparked protests in Canada, a country that prides itself on its tolerance.
Montsion was also charged with aggravated assault and assault with weapon, according to the SIU.
Ottawa's police chief, Charles Bordeleau, said in a statement: "It is important that we remain patient and respectful of the judicial process," and that Montsion "deserves to be treated fairly".
Abdi's death has been "difficult" for police officers as well, Bordeleau said.