World pole vault champion Shawn Barber avoided a two-year suspension for an anti-doping violation after inadvertently ingesting cocaine when kissing a woman he met on the internet.
The athlete was permitted to compete at the Olympic Games in Rio, despite testing positive for the drug.
Barber was spared a ban after successfully arguing that the drug had been passed on through "kissing".
An independent arbitrator ruled "no fault or negligence" by Barber, who finished 10th in Rio.
Athletics Canada called the decision "fair and reasonable".
Barber posted an online advert on Craiglist asking for a "sexual encounter of some sort" with a woman who was "drug and disease free".
The athlete admitted that he sought a "way to relieve stress" ahead of the Canadian Olympic trials.
The woman involved in the encounter said she had consumed cocaine but did not inform Barber she had taken the drug before going on to repeatedly kiss him.
Authorities published the decision, which was made on August 11, on Thursday.
Barber said in a statement: "I am obviously satisfied with the result of the hearing where I was found to have zero fault.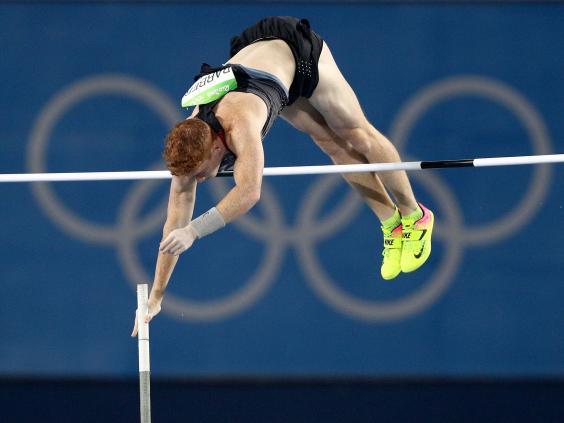 "I am happy to have this behind me so that I can move on with my career with a free conscience.
"At no time during my actions, did I even fathom the possibility of being able to be contaminated with cocaine. This is a learning experience that I hope other athletes can learn from as I have."
Barber's lawyer, Paul Greene, added: "Forensic toxicologists have looked at the case and understood… that it was impossible to have taken this amount of cocaine intentionally.
"You have inadvertent ingestion of cocaine that is passed to an athlete by way of kissing, which is exactly what happened."
Although Barber's name has been cleared, he will have to forfeit his Canadian title and Championship record which he set on July 9 during the nation's Olympic trials.
Athletics Canada remarked: "We are thankful that the proper procedures recognised the presence of a prohibited substance, but also in ensuring due process to the athlete in coming to a fair and reasonable decision."
Reuse content