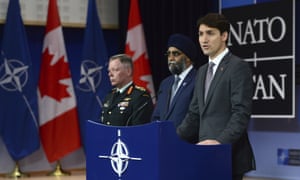 Donald Trump had chided Nato leaders for not committing more funds
Foreign minister sees bigger role for Canada as US retreats from world stage
Canada has announced plans to increase its defence budget by nearly three quarters over the next decade, after coming under pressure from the United States to boost military spending.
Defence minister Harjit Sajjan said the budget would jump by 73% to C$32.7bn ($24.2bn) in 2026-27 from C$18.9bn in 2016-17, with the biggest increases coming in later years.
Sajjan's announcement came a day after Liberal foreign minister Chrystia Freeland said Canada would have to play a larger global role as the administration of Donald Trump retreated from multilateralism.
Sajjan told a news conference the new 20-year defense policy would result in "a Canada that is strong at home, secure in North America and engaged in the world."
Canada will hold an open competition to buy 88 advanced fighters to replace its fleet of 77 CF-18 planes, more than the 65 new jets the previous Conservative government had planned.
The defense review said the jets would need to operate seamlessly with planes of Canada's allies and estimated the cost at between C$15bn to C$19bn.
Ottawa said last year it wanted to buy 18 Boeing Super Hornets as an interim measure but has since threatened to scrap the plan unless the US firm drops an anti-dumping challenge against planemaker Bombardier.
Sajjan said the boost would take total defense expenditures to 1.4% of GDP by 2024-25 from 1.2% now. Other estimates put Canada's spending at closer to 1.0%.
He declined to comment when asked whether the spending would result in a larger budget deficit than the Liberals are already forecasting.
Nato members have committed to spend 2% of GDP on the military, a target few meet. Trump last month upset Nato leaders by insisting they commit more funds. Asked whether he thought Trump would be satisfied, Sajjan said: "This defense policy is for Canada."
His announcement came after Freeland said Canada would seek to play a larger role on the world stage as the United States retreats. Addressing parliament on Tuesday, Freeland said: "International relationships that had seemed immutable for 70 years are being called into question."
"The fact that our friend and ally has come to question the very worth of its mantle of global leadership, puts into sharper focus the need for the rest of us to set our own clear and sovereign course," she said.
"For Canada that course must be the renewal, indeed the strengthening, of the postwar multilateral order."
Freeland told parliament that Canada would "strive for leadership" in multilateral forums such as the G7, the G20, Nato and the United Nations.
She said Nato and Article 5, the alliance's mutual defense doctrine, lay at the heart of national security policy. Trump upset NATO leaders by not personally affirming his commitment to the article.
For Canada to play a larger role globally, it would need to make "a substantial investment" in its armed forces, she added. "Canadian diplomacy and development sometimes require the backing of hard power," she said.