Quick Take
Apparel maker Canada Goose Holdings (Pending:GOOS) has filed an amended IPO F-1 registration statement, setting out proposed terms for a $225 million IPO.
Management is focused on adding wholesale partners and ramping up its 'Direct to Consumer' e-commerce and retail store efforts.
I'm skeptical of its ability to continue growing at its recent topline revenue growth rates, so I'm NEUTRAL on the IPO until I see more results on its Direct to Consumer initiatives.
Company
Canada Goose was founded in 1957 by Polish immigrant Sam Tick. The company began operations by selling high-quality woolen coats and outerwear.
In 1985, Tick's son-in-law David Reis acquired a majority stake in the company, invented a volume-based down filling machine and began to sell premium clothing items under its in-house brand Snow Goose.
Until 2001, the company generated around $3 million in annual revenue. In 2001, Dani Reiss, the founder's grandson-in-law, assumed the position of President and CEO, discontinued its private label and began to expand its footprint. He remains in that position today.
Private equity firm Bain Capital Private Equity acquired a reported 70% of the company in 2013 and remains its majority shareholder.
Business
Canada Goose operates a vertically integrated business 'as a designer, manufacturer, distributor and retailer of premium outerwear for men, women and children.'
Below is a video of how a Canada Goose jacket is made:
(Source: BrandMade.TV
The company does not outsource manufacturing to lower cost regions; rather, it makes its products entirely in Canada and management believes this approach produces a higher quality, more authentic line of products.
Canada Goose distributes its products via two channels:
Wholesale – Now in 36 countries, the company selects 'best-in-class outdoor, luxury and online retailers.'
Direct to Consumer – E-commerce sites in four countries and two 'recently opened retail stores.'
Management is focused on a three-pronged strategy for driving growth:
Introduce the brand to greater numbers of consumers outside Canada
Add new wholesale customers and strengthen relationships with existing retailers
Accelerate its e-commerce-centric 'Direct to Consumer' expansion
The company recently opened two retail stores, in its hometown of Toronto and in New York City, and intends to "open a select number of additional retail locations in major metropolitan centres and premium outdoor destinations."
This strategy shift is in line with a 2015 Bain Capital Luxury Goods [PDF] report which stated that "wholesale still dominates, but company-owned retail and e-commerce are growing faster."
Furthermore, the report added that the "wholesale channel's slower performance stems from three factors: the ongoing 'retailization' of luxury (converting franchised locations into company-owned stores or joint ventures); the lackluster performance of US department stores across product categories (particularly in leather goods); and the decreasing sales of Asian watch retailer, which are coping with excessive stock and a reduction in the overall store network."
I would add that in a world of abundant retail options, unique brands such as Canada Goose have the imperative of doing everything they can to differentiate themselves in a higher margin environment, which also leads to a 'Direct to Consumer' approach.
Market and Competition
According to a 2017 Euromonitor Apparel and Footwear report, the luxury outdoor apparel market in the four regions of Canada, U.S., Europe and Asia Pacific in 2016 totaled $81 billion and is expected grow between 3% to 4% CAGR through 2020:

Canada Goose has a number of worthy competitors in the luxury outdoor apparel space, including:
Patagonia
The North Face
Arc'teryx
Gorsuch
Marmot
Mammut
NuDown
Financials
Canada Goose's recent financial results can be summarized as follows:
Growing revenue, although at a reduced growth rate in 2016 vs. 2015
Increasing gross margin, currently at 50%
Uneven cash flow or use from operations
Below are the company's operational results for the past two years (Audited Canadian GAAS):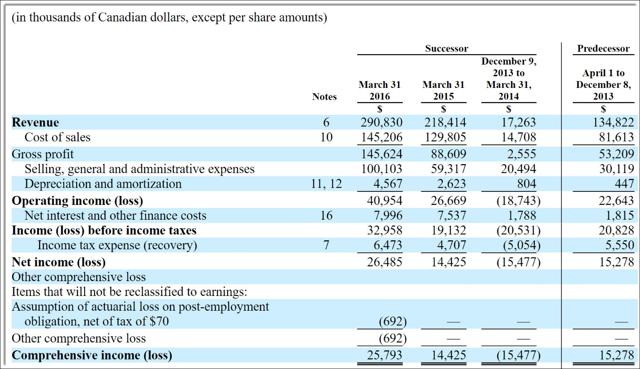 (Source: Canada Goose F-1)
Revenue
March 31 2016: $216 million, 33% growth vs. prior
March 31 2015: $162 million, 43% growth vs. prior
March 31 2014: $113 million
Gross Margin
March 31 2016: 50%
March 31 2015: 41%
March 31 2014: 37%
Cash Flow from Operations
March 31 2016: $4.75 million cash used in operations
March 31 2015: $3.7 million cash flow from operations
March 31 2014: $2.7 million cash flow from operations
As of December 31, 2016, the company had $22.4 million in cash and total liabilities of $278 million.
IPO Details
Canada Goose intends to sell 7.149 million 'subordinate voting' shares and selling shareholders will sell 12.851 million subordinate voting shares for a total 20 million shares outstanding post-IPO.
After the IPO, there will be two classes of shares outstanding:
Subordinate voting shares – one vote per share
Multiple voting shares – ten (10) votes per share
After the IPO, Bain Capital will own 57% of multiple voting shares, and President and CEO Dani Reiss will own 24% of multiple voting shares.
The midpoint of the share price range is expected to be approximately $15 per share, for gross proceeds to the company of approximately $107 million.
The company intends to use the proceeds from the sale of company shares as follows:
We intend to use the proceeds from this offering to repay $65.0 million of our outstanding indebtedness under our Term Loan Facility and $35.0 million of outstanding indebtedness under our Revolving Facility. The loans currently outstanding under the Revolving Facility, which matures in June 2021, are LIBOR Loans, bearing interest at 2.73%. The Revolving Facility was initially used to repay and extinguish our prior secured credit facility. We use our Revolving Facility in the normal course as a source of liquidity for short-term working capital needs and general corporate purposes. The term loans under the Term Loan Facility, which mature in December 2021, currently bear interest at the LIBOR Rate (subject to a minimum rate of 1.00% per annum) plus an Applicable Margin of 5.00%. The proceeds of the term loans borrowed under the Term Loan Facility were used to effect the steps described in this prospectus under "Recapitalization," to pay transaction expenses in connection with the closing of the Term Loan Facility and for other general corporate purposes.
The IPO management syndicate includes numerous investment banks such as CIBC Capital Markets, Credit Suisse, Goldman Sachs & Co. and RBC Capital Markets.
Commentary
Canada Goose is a luxury cold-weather brand that is well-known in Canada and to a lesser extent in the U.S. and northern Europe. Its products are considered very high quality and command premium prices.
The company's challenge is to utilize the IPO proceeds to efficiently expand its e-commerce-focused Direct to Consumer approach.
This is not an easy approach, and luxury companies have been tempted to go 'down market' in order to juice sales but run the risk of damaging their brand and not managing scarcity correctly.
Additionally, although there appears to be large northern hemisphere-based markets remaining to be tapped, continuing its recent 33% topline revenue sales growth will be challenging as its prior year numbers are larger than before.
I'm somewhat doubtful that management will be able generate such high growth rates going forward, or at least not without spending large sums of money to do so.
At a proposed post-IPO market cap of $1.3 billion, there are plenty of unknowns about the company's ability to make significant inroads in the marketplace. That existing majority shareholder Bain Capital is selling shares into the IPO is also not an encouraging sign.
As a result, I'm NEUTRAL on the IPO and prefer to wait until I know more about its Direct To Consumer rollout progress and related financial performance.
I write about IPOs and M&A deals. Click the Follow button next to my name at the top of this article if you want to receive future articles automatically.
Disclosure: I/we have no positions in any stocks mentioned, and no plans to initiate any positions within the next 72 hours.
I wrote this article myself, and it expresses my own opinions. I am not receiving compensation for it (other than from Seeking Alpha). I have no business relationship with any company whose stock is mentioned in this article.