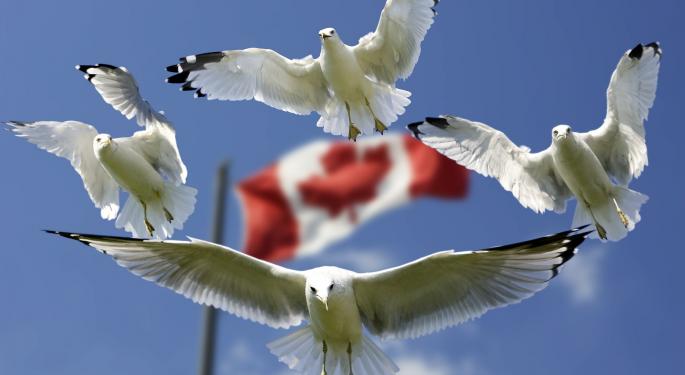 This weekend's Barron's features a look at how Canadian stocks have fared and how to play the trends.
Other featured articles discuss one particular Canadian stock that has caught the eye of short sellers and a rising software star benefiting from the ecommerce arms race.
The prospects for big insurance stock and a leading biotech are also examined.
"Why Do Canadian Stocks Keep Blowing Up?" by Bill Alpert claims that U.S. hedge funds are making a bundle betting against Canadian shares. Call it The Great White Short, says this article. With resource and energy companies finding their footing again in the United States, should investors be tempted to prospect north of the border? And the country's six big banks did survive the financial crisis relatively unscathed.
In "Is Exchange Income a New Target for Short Sellers?" Bill Alpert suggests that aviation services provider Exchange Income is worried about becoming the latest target of U.S. short sellers. Its Toronto-traded shares have swung wildly over the past month due to short selling, the company asserts. See why Barron's thinks it isn't hard to understand why the shorts might take an interest in this company.
Jack Hough's "NCR: Profiting From the Amazon Arms Race" makes the case that venerable cash-register company and rising software star NCR Corporation (NYSE: NCR) is positioned to benefit from the digital arms race among grocers resulting from the pending takeover of Whole Foods by Amazon. Also find out why NCR was JPMorgan's top pick in this arena last week.
See also: If The Economy Is Improving, Why Are Dollar Stores The Only Retailers With Positive Trends?
During the past few years, insurer Assurant, Inc. (NYSE: AIZ), which handles consumer items ranging from cellphones to funerals, has taken steps to ensure it takes better care of its own risk, according to "Why a Big Insurer's Stock Could Double" by Robin Goldwyn Blumenthal. See how Barron's believes its shares could benefit from the company's shift toward a "capital light" business model.
In Teresa Rivas's "Gilead Is Finally a Buy: 'Value Trap No More,'" find out why though investors in Gilead Sciences, Inc. (NASDAQ: GILD) remain skeptical , the stock is cheap, it yields 3 percent and it's on the rise. Plus, biotechs staged a fierce rally this past week amid a growing sense that the current administration will not push aggressively for drug companies to lower prices.
Also in this week's Barron's:
The top 50 annuities for income
Four rising star CFOs to watch
Whether it is too soon to worry about a financial crisis
Reasons for investors to beware the second half
Whether cloud computing has peaked for investors
Whether hedge fund improvements are good enough
Finding the best alternative ETFs
Fidelity's new iPad app
12 consumer stocks with nice payouts
Whether the U.S. economic expansion can last to 2020
Keep up with all the latest breaking news and trading ideas by following Benzinga on Twitter.
Posted-In: Assurant Barron'sShort Ideas Barron's Hedge Funds Media Trading Ideas General Best of Benzinga