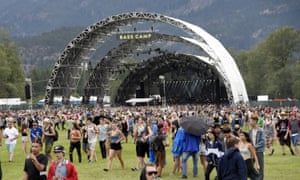 As Canada's Pemberton event folds, is era of indie festivals reaching an end?


Music executive warns of danger to 'festival ecosystem' after British Columbia event collapses without refunds for ticket-holders
Concert promoters are warning that the era of independent music festivals could be drawing to a close, following the abrupt collapse of two events.
The Pemberton festival was due to take place in British Columbia in mid-July, with performances by Chance the Rapper, Haim, Muse and A Tribe Called Quest. But late last month the festival was abruptly cancelled, placed in bankruptcy, and ticket holders informed they would not be refunded.
It comes after the disintegration of Fyre, a supermodel-fronted festival in the Bahamas that left hundreds of festival-goers stranded without food, water or shelter last April. With Bestival also suspending its Toronto event after two years, there are concerns about the future of festivals in North America.
"This could be the symbolic end for independently promoted festivals," Mark Geiger, head of music at the William Morris talent agency, told the New York Times. Geiger, whose agency represents many of the acts at Pemberton, described the event as a "fraud, pure and simple" and said he plans to go after the organisers.
"I want each of them to know, I'm coming after you personally," he told Billboard. "You can't do this much damage to the festival ecosystem and think you can get away with it."
Others believe that the collapse of the two festivals underlines the difficulties of inexperienced people trying to set up a successful event in a crowded marketplace.
"Fyre and Pemberton are two outlier events," says music manager Andy Gershon. "Fyre was a disaster from conception, and Pemberton did not involve longstandingmusic promoters but business people who clearly did not understand the nuances of music festivals, of which there are many."
There is mounting anger that although Pemberton's shell company has been placed in bankruptcy, the organisers and creditors could walk away financially unscathed. According to bankruptcy filings, the festival lost money for three years, and sold 18,000 tickets in 2017, down from 38,000 last year. Event planners say it typically takes several years for a festival to become profitable – a threshold many cannot reach given the proliferation of rival events and the repetition of headliner acts.
"The issue for festivals is location and headlining talent," says Gershon. Noting how Chance the Rapper is the leading attraction at numerous events this season, Gershon said there is too much repetition and too few headliners available, with the exception of country music.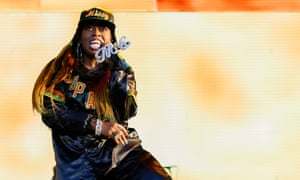 "People saw the money that festivals can generate, and that attracted investors [after] short-term profits. The truth is, a successful festival takes several years to develop. It's risky and most generate losses for those first few years."
Several Fyre-related lawsuits are also working their way through the courts. Last week, a judge in New York ordered Fyre organisers Billy McFarland and Ja Rule to turn over the festival's bank records. Lawyers for one of Fyre's creditors, Oleg Itkin, claimed organisers had created a Ponzi scheme doomed to leave investors disappointed. "McFarland will potentially be seen as the Madoff of the millennials," Michael Quinn, Itkin's lawyer, told the Guardian, referring to convicted fraudster Bernie Madoff.
Whereas Fyre had used supermodels like Kendall Jenner and Bella Hadid to promote a Caribbean idyll of music, sand, sex and glamour, Pemberton offered fun in the forests 100 miles north of Vancouver.
"The only difference between Pemberton and Fyre is that Pemberton sold their event with trees instead of supermodels," Geiger said.
Pemberton organiser Evan Harrison said he lobbied the festival's majority owners to limit placing the burden on fans. He did not reveal if the bands booked to play had returned their advances.
The collapses of Fyre and Pemberton suggest the festival business may have passed its peak. The reigning behemoths of the business, Coachella and Glastonbury, have come under criticism for becoming too corporate, while a number of successful festivals are scaling back.
The UK's Bestival shelved plans for a third Canadian festival this year after failing to sell enough tickets for 2016 when the Cure headlined. This year's Secret Garden Party, which claims to have invented glamping, will also be the last of its kind.
Founder Freddie Fellowes told the NME that the Cambridgeshire festival, a staple on the summer music calendar for 15 years, will end at its peak. "There is never the perfect time to drop this bombshell, too early or too late and people are going to miss out and be disappointed. Hopefully we have struck the middle ground here."
But with festival season in full swing, the market tests are coming up fast. Broken Social Scene's Kevin Drew, organiser of this weekend's Field Trip outside Toronto, told Billboard he didn't know why some people attend some events and not others. "We live in a time of people consuming way too much information, and what live music is supposed to make you do is feel free," he said.