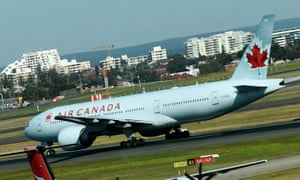 Air Canada apologises for bumping boy, 10, from family holiday flight

Airline says it has offered 'very generous compensation' after Cole Doyle was not able to join the rest of his family on the plane to Costa Rica
Air Canada has apologised to a Canadian family and offered "very generous compensation" after the airline bumped a 10-year-old boy from a flight.
The boy's father, Brett Doyle, booked four tickets from Charlottetown, Prince Edward Island, to Costa Rica for his family last August.
A day before the holiday in March this year Doyle says he checked in his family for the flight online, but could not select a seat for his son, Cole.
After hours on the phone with Air Canada, Doyle's wife, Shanna, drove to the airport and was told the flight was oversold and their son had been bumped.
According to the broadcaster CBC, she asked an Air Canada agent if she or another adult they were travelling with could give up their seat for Cole.
"I was told that while yes, we could give up our seat, there would be no guarantee that the seat would go to my son," she said. It could be given to a more frequent flyer, she was told.
The family, from Stratford on Prince Edward Island, instead drove two hours to Moncton airport in New Brunswick to catch a different flight to meet the Costa Rica flight in Montreal. However, that flight was cancelled, and they were forced to drive another two-and-a-half hours to Halifax, Nova Scotia, and stay overnight in a hotel.
An Air Canada spokeswoman, Isabelle Arthur, told the Vancouver Sun by email on Monday: "We are currently following up to understand what went wrong and have apologised to Mr Doyle and his family as well as offered a very generous compensation to the family for their inconvenience."
The family, who eventually reached Costa Rica, were offered a C$2,500 voucher (US$1,876, £1,495), which expires in one year, and were told Air Canada may cover their expenses.
Their experience follows two recent controversies involving United Airlines in the US.
Last week, the heavy-handed removal of a passenger, David Dao, from an overbooked plane due to fly from Chicago to Louisville caused anger on social media. In March the airline also prompted a storm of criticism when it stopped two young girls from boarding a plane because they were wearing leggings.
Doyle told Reuters that the outcry over the treatment of Dao had resonated with his family.
"People are fed up," he said of airline overbooking. "You shouldn't be able to sell something twice." But he added: "I said things could always be worse. At least we weren't thrown off the plane."